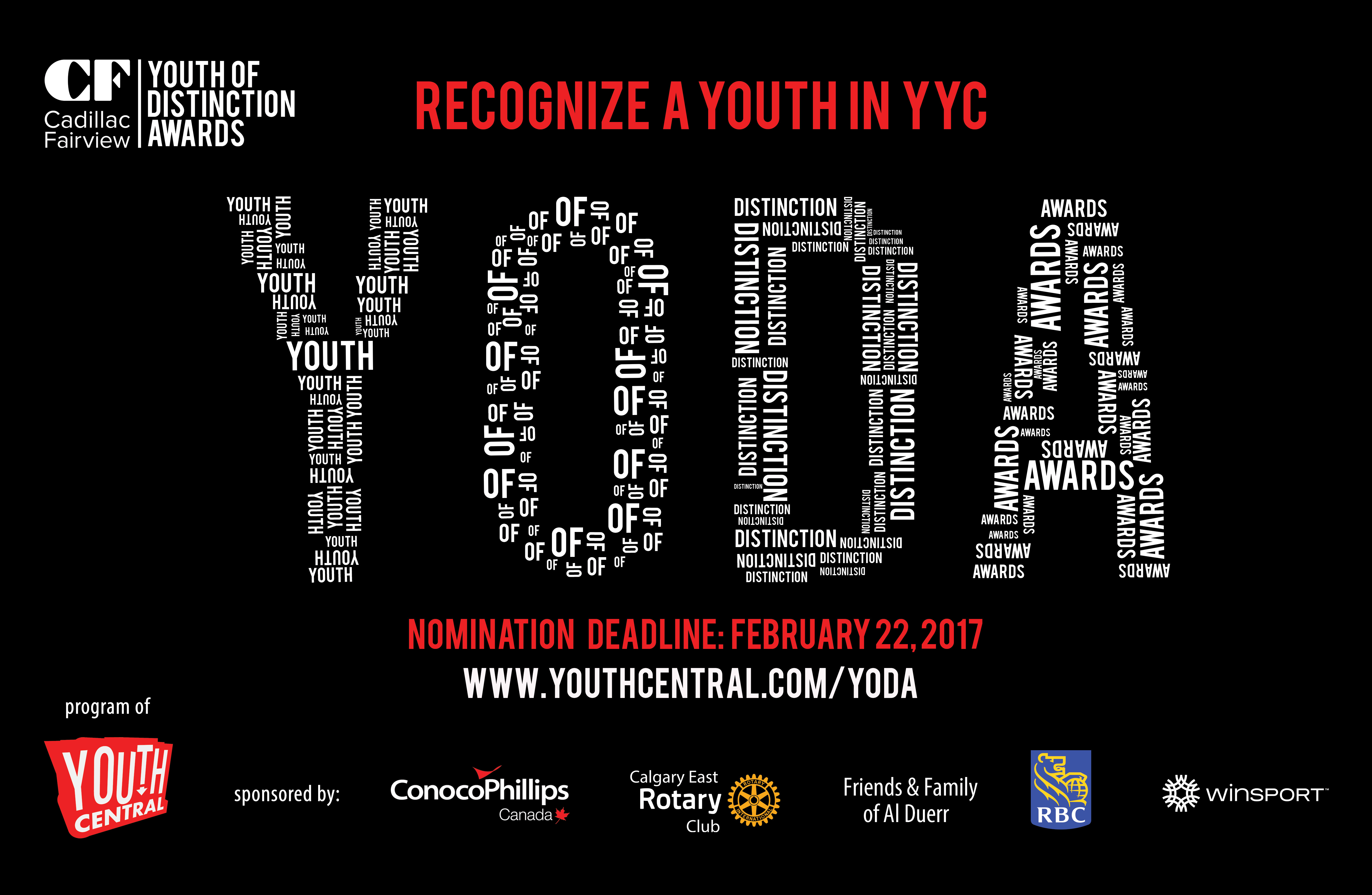 31 Jan

Youth Of Distinction Awards 2017
Youth Central is accepting nominations for the Youth Of Distinction Awards.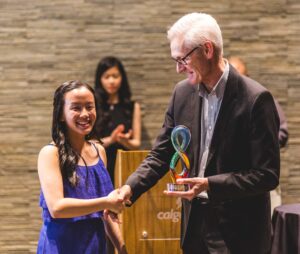 The Youth of Distinction Awards (YODA) is a great opportunity to recognize young people in Calgary who are making a difference in their community and the lives of others. We want to recognize youth who are inspiring others with their passion and their incredible accomplishments. We accept nominations from everyone, young people and adult, who want to recognize someone who has made a noticeable impact, whether that be a supportive friend or a dedicated team coach. There are eight categories that youth can be nominated in. Each of the eight categories speak to the impressive ways youth are able to support and build those around them, but are not necessarily recognized through academic or other awards. We want to ensure that the young people who are making a difference in the community are recognized for those efforts. 
Advocacy: 

Given to a youth who commits time and energy lending their voice to a cause to bring about change. To receive this award, the nominee demonstrates passion and conviction.
Arts & Culture: 

Given to a youth who demonstrates passion for arts & culture including music, theatre, dance, film or visual arts. The nominee is committed to helping others understand the importance of arts in their community through acts like mentoring, teaching, fundraising and raising awareness.
Environment: 

(individual) Given to a youth and a group of youth who are committed to improving the environment and reducing environmental degradation. The nominee will have achieved results and have made the world a little "greener."
Leadership: 

Given to a youth who takes on a leadership role to bring about positive change to their school or community. The nominee will demonstrate responsibility and drive, as well as initiative in starting new projects and programs.



Peer Support: 

Given to a youth who is a true mentor. This youth will have positively affected the life, or lives of others. The nominee will have shown empathy and compassion while lending their support.
Perseverance: 

Given to a youth who has prevailed over adversity or an obstacle in their life. The nominee will overcome challenges and demonstrate inner strength and perseverance.
Sportsmanship: 

Given to a youth who is passionate about athletics. They will demonstrate sportsman-like qualities such as mentorship, coaching, planning and enthusiasm. While they don't have to be the most athletic nominee, they will show commitment to helping others recognize sport as an important part of their community.
Volunteerism:

Given to a youth who is truly selfless and dedicated to helping others. Though not necessarily in a leadership role, the nominee has shown commitment to bettering their community by volunteering their time to a cause they are passionate about.
Youth Central is happy to facilitate this opportunity for the young people in Calgary to get the recognition they deserve for their efforts. The only requirement for nominees is that they are 12 – 18 years of age and live in Calgary or its surrounding area. The deadline for nomination submissions is set for February 27, 2017.