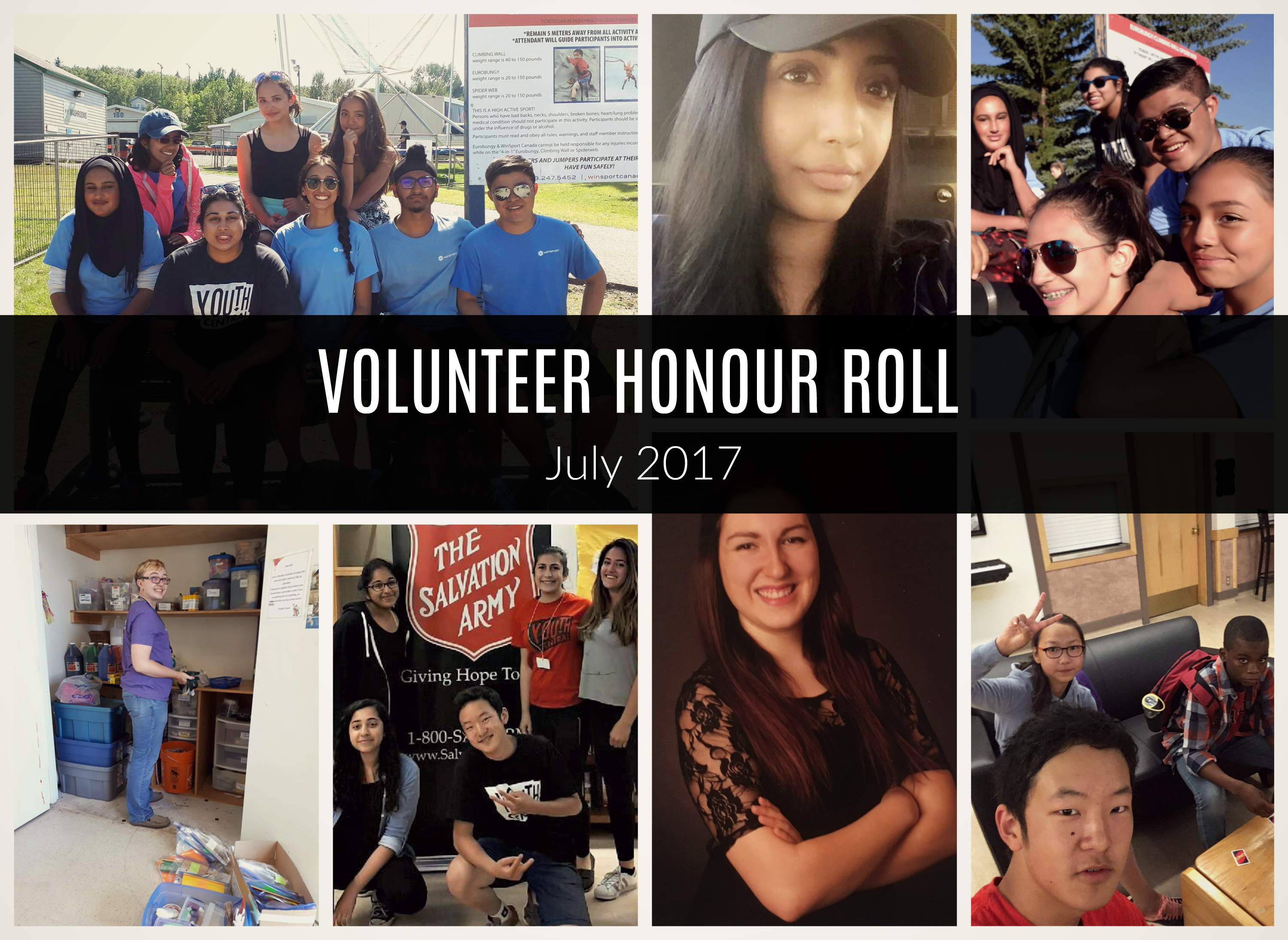 28 Jul

July Volunteer Honour Roll
What is the Honour Roll? 
The Youth Central Team Leaders have the opportunity to work with amazing volunteers during our first month of summer projects and we would like to recognize these volunteers for their outstanding contributions. Rather than recognize just one Volunteer of the Month, we are recognizing multiple volunteers through an honour roll. This month, we would like to recognize Khoa Pham, Yu Hao, David Gu, Ciaran Plant, Emma Kobelsky, and Pawan Sidhu. These individuals range from long-time volunteers to volunteers who have just joined recently. Moreover, they showcase the various exciting projects that are happening this summer, including the Winsport, Between Friends, Calgary Humane Society, Salvation Army and Summer in the City camps. Click their names below to read their full profile. 
---
Khoa Pham 
No matter how hot the weather gets and how tiring the activities may be, Khoa always keeps a smile on his face and an upbeat attitude around the campers.
"Khoa is a natural with kids. While working with him at Winsport, I noticed that he is always making games more adaptive to suit the group of kids he is with. He is always on his feet and actively evaluating his surroundings to see what he can do to ensure that the campers are fully addressed. Khoa uses a combination of patience and encouragement to get his campers through new and nerve-racking activities. I have seen him take on the role of coach and motivating kids to try new things by presenting different techniques and strategies to them. He takes the effort to individually cater and understand his campers. He is a great role model, not only is he fun and caring, but he also takes the time to set clear expectations and boundaries, all of which are the characteristics a leader. Khoa is known to treat his colleagues, fellow volunteers, and campers with respect. Unfortunately, he will be graduating the YVC program this summer, but I know where ever he goes, he will continue to help those around him!" – Bhu 
"It's amazing to see how patient he is with smaller age groups, and how quickly he can bond with older kids as well. Within the WinSport camp setting where it's always chaotic and full of buzzing energy, Khoa manages to look after every camper he is responsible for with extreme care and genuine consideration. On top of that, he actively takes initiative to take care of easily overlooked details – never hesitant to go the extra mile to make sure the campers are having fun and being safe. During the two weeks I've worked with him, both counselors considered him a huge asset and strong support on the team. He has undoubtedly shone as a WinSport volunteer, and I'm sure he will at other projects as well!"
Yu Hao
Yu Hao is truly amazing when he is working with children despite being only 14 years old.
"He has this natural enthusiasm and maturity to him. He tries to encourage all the kids when they are playing carnival games and often modifies his work in an attempt to improve how the kids will receive it. He smiled to people young and old all the way through the hot sun at a BBQ even when he was collecting garbage and told them to have a nice day. Whenever I asked him to do a task, he was optimistic and quick to act. Additionally, he is really serious and passionate whether it is playing with kids, handing out popsicles, or collecting garbage. While I only had Yu this summer, he made a strong impression on me as a really hardworking and amazing volunteer!" – Lisa
David Gu
His outgoing and upbeat personality showed throughout the week through both his participation in activities and his initiative in leading games.
"I had David for his first project with Youth Central. David has a natural confidence and outgoing personality. He did a great job of connecting with the kids at the Escuela Canyon Meadows: Fiesta de Verano. Not only that, but I noticed that he made the other volunteers feel welcome. He is a great addition to the volunteer team and I hope he continues to volunteer for many projects to come." – Richard
"David was an amazing last minute addition to the Salvation Army Summer Camps. He was always very involved in all activities and always ensured the kids were excited and having fun. The kids and staff both loved having him around camp. David's involvement at camp helped eliminate any concern surrounding the lower number of volunteers throughout the week. Overall, David has been a great addition to the Youth Central team!" – Madison

"Salvation Army Camp staff was very happy to see David returning the camp! He had established amazing connections with the kids and he was dedicated to his commitment." – Bhu 
Ciaran Plant

Ciaran demonstrates initiative like no other volunteer I have interacted with so far.
"Ciaran is great at working with children and he seems to really love the Calgary Humane Society camp, as evidenced by him signing up for multiple weeks. He consistently demonstrates leadership by taking the initiative to help clean up, run games with the kids, and help them to wash their hands. Furthermore, he brought his own games from home to keep kids entertained. He goes above and beyond what is required of a volunteer and does this all without being asked." – Richard
"He has brought and left his own games for the camp to use and he intends to purchase more games to lend to the Calgary Humane Society camps. He is a quick thinker as he is able to create simple crafts that will entertain campers for a good amount of time. He has sacrificed personal time to make craft kits for Richard and me to use when he is not volunteering with us so that we can have supplementary activities for the campers. He goes above and beyond for preparing for the camps. He does work that even the counselors don't do, such as prepare individualized craft kids and colour code them for each age group, and has taken it upon himself to clean the craft closet without being asked. He does this extra work because it is fun for him, and he says that he does it for the children. He has sacrificed personal time and has used his own money to provide for the craft kits. His use of tone and authority towards the campers is effective. His volunteerism is one to be admired, and to be inspired by as a volunteer and a Team Leader."
Emma Kobelsky
A long-time volunteer, her contributions to Youth Central have been recognized by Team Leaders, other volunteers and the agencies that we work with.
"Emma is a great volunteer for Between Friends Summer Camp. Having been a volunteer for the past two years, she has been able to develop and foster relationships with the campers despite knowing them for a short amount of time. She has a great memory of the campers of the last few years and the campers and team leader(s) of the summer camp remember her, as well. She interacts seamlessly with the participants and is able to connect with harder to reach with participants. She is patient with the participants which helps in connecting with them. Her ease at the project and her maturity at camp is something wonderful to witness. Also, she jumps in to help before any volunteer."
"Emma is a natural when it comes to volunteering at Between Friends Summer Camp. She is able to build deep relationships with the campers, especially one camper who considers Emma one of his best friends. She demonstrates maturity by being able to resolve any challenging situations that arise. This will be her last summer of volunteering with Youth Central before going to university, but she genuinely loves being at the camp and decided to volunteer directly with Between Friends. I have no doubt that volunteering is a core part of her lifestyle and that she will continue to be a shining role model for any organization that she works with."  – Richard
"Having the opportunity to volunteer with Emma within the last two years has been an amazing experience. She is very hands on with everyone she interacts with, especially with children. She is not afraid to take on additional tasks and is always looking for something to do. When she is assigned a task, she is quick to take action and tackles the task with enthusiasm. In the Marda Loop Community Association project, she showed maturity when handling the hectic bouncy castle and managing the face painting station. She demonstrated a high-level of maturity as she helped other volunteers and the many children and parents at the Stampede breakfast event. I hope to continue working with Emma in the future and I strongly believe that she should get recognized for her hard work and dedication". – Dalton 
Pawan Sidhu
Pawan, she really brightens up the space for all the volunteers.
"Whenever she is at a project, Pawan is so welcoming to the new or shy volunteers. She would often make jokes with them and help them open up. This helps provides a positive and enjoyable environment for the volunteers to work in. For the Summer in the City Summer Camps, Pawan often took initiative to get involved with the kids, making sure they stay with the group and are having a good time. She taught some kids UNO one time, I was impressed by her patience and ability to make the kids concentrate on her. She also handled mischief from a few boys with maturity and expertise. It was a real pleasure having Pawan on the team!" – Lisa

"Pawan is always ready to give a helping hand. I remember she once came to my project and then went to help another project halfway through because it was low on numbers – her dedication to volunteerism is motivating. She has always been a team player and goes the extra mile to include everyone at the project. I appreciate that she is always radiating positive vibes!" – Bhu

"Pawan has an infectious, positive, and enthusiastic personality that enhances every project that she volunteers on. In addition to her positive attitude, her humour creates a welcoming and friendly environment for the other volunteers. She is very personable and works well with volunteers of all ages on each event. In the time that I have known Pawan she has grown into a leader on projects. She has been a pleasure to work with."