07 Sep

Youth Central 15th Alumni Profile: Nicole McCarthy
Youth Central is celebrating its 25th anniversary! 
To mark this milestone Youth Central is profiling 25 of its alumni throughout the years. Youth Central's Youth Are Awesome (YAA) program is helping out by interviewing and profiling the alumni. This article is written by Hui Wen Zheng, one of YAA junior editors.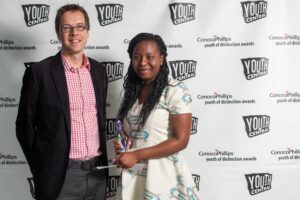 Alumnus Nicole McCarthy is the focus of this profile. This profile is a part of a series composed to celebrate the 25th anniversary of Youth Central by profiling 25 of its alumni.
As a first-year university student, Nicole has only recently left her positions on the Youth Volunteer Corps, Youth of Distinction Award (YODA) steering committee, and the Mayor's Youth Council (MYC).  Nicole was introduced to the work of Youth Central after she was named the recipient of the YODA Leadership Award in 2014, and she soon immersed herself in volunteer projects and committees.
Through her service with Youth Central, Nicole was able to demonstrate her passion for empowering youth and encourage awareness in her community. "Youth Central has an amazing way of introducing you to a different side of your community that you weren't aware of, as well as helping you find your role in creating positive change," Nicole said.
She remembers one project she did with Youth Central with enthusiasm. "Through the MYC, I recognized the disparities between youth and resources available to them. I essentially noticed many, amazing organizations provided youth with fulfilling opportunities, but young people had a hard time locating or these resources. My role was EverythingYYC, a database that I created during my second term on the Mayor's Youth Council, which provides youth with easy access to multiple resources in Calgary. The current MYC steering committee is maintaining and updating the site."
Nicole has just recently completed her first year of studies pursuing a Bachelor of Health Sciences at the University of Calgary with a major in Health and Society. She is looking to pursue a career in public health and policy. In terms of how her experiences with Youth Central has helped her so far in her path, here is what she says:
"Youth Central has given me a multidimensional perspective; this is the same perspective that will allow me to thrive in all aspects of my life. Volunteering has provided me with the insight between individuals and institutions. It has encouraged me to embrace my role as a community member and the responsibility I have to make my community a better place."
In terms of words of wisdom, Nicole leaves a simple yet powerful message. "Take your passion and magnify it. The magnification of your passion will inspire others to find their own and build something great with it. The world is in need of someone just like you, embrace it."