25 Dec

Youth Central 24th Alumni Profile: Raj Bhatt
To mark the 25th Anniversary milestone, Youth Central is profiling 25 of its alumni throughout the years. Youth Central's Youth Are Awesome (YAA) program is helping out by interviewing and profiling the alumni. 
Raj Bhatt chose to become involved with Youth Central because he was interested in making a difference in Calgary through volunteer work. He was involved in the very first Mayor's Youth Advisory council with Mayor Al Duerr in 1994. From there he became involved in the Youth Volunteers Corps program and was also on the board of Child Friendly Calgary as the youth representative. He enjoyed inspecting various locations in Calgary to see if they were Child Friendly. This included restaurants, tourist venues, and the Westin Hotel.
Raj has acquired a B.Comm. from U Calgary, and a Chartered Financial Analyst and MBA from Harvard Business School. Volunteering with Youth Central impacted his career path because it is where he discovered how much he enjoys customer service oriented businesses. Along the way he was proud to receive the Chancellors Scholar at University of Calgary, Lawrence Decore Award for Leadership, graduate at the highest position in Finance at University of Calgary, go to a notable career on Wall Street, and be featured in April 2017 issue of Entrepreneur magazine for the F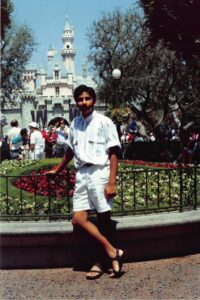 rench macaron business he owns.
Raj values the lessons he took from volunteering including: building leadership skills, making friends, and finding his passion.

"Volunteering definitely gave me a sense of community and a stronger social lens to what I do daily. In business it's important to take the bigger picture into consideration. Today, my business decisions are largely based on how it will impact society and the greater population, and that sense was developed during my volunteering years, which started with YVC!".

His advice for current or new volunteers? "Give it your all and try to make a difference. Being involved at the city or regional level could feel too high level, but you are making an impact and having the voices of youth heard!"