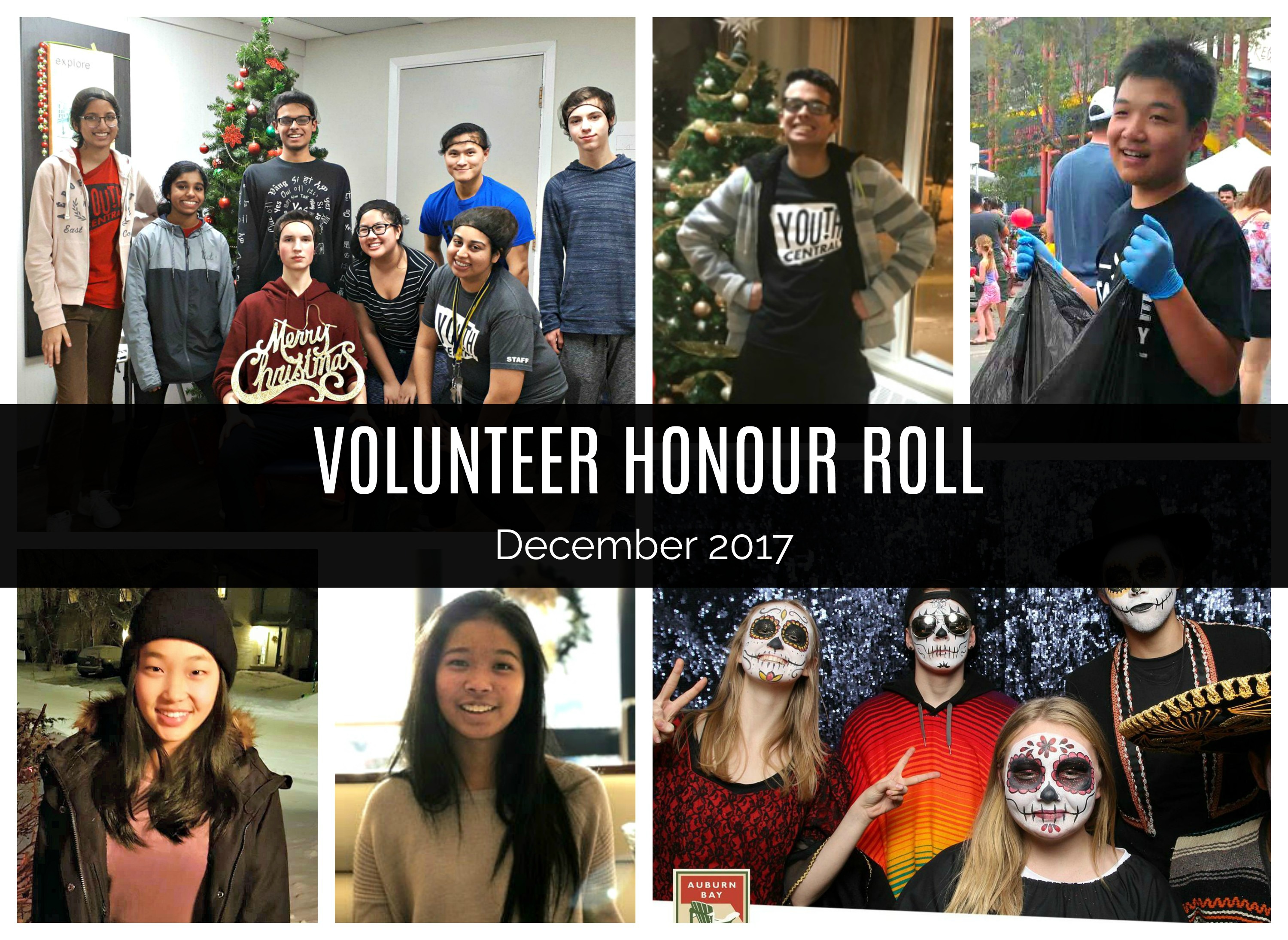 01 Jan

December 2017 Volunteer Honour Roll
What is the Honour Roll? 
The Youth Central Team Leaders (TLs) had the opportunity to work with amazing volunteers in December and we would like to recognize these volunteers for their outstanding contributions! Rather than recognize just one Volunteer of the Month, we are recognizing multiple volunteers through an honour roll. This month, we would like to recognize Prabhu Dhatt, Dana Desamparado, Jade Becker, Michael Xu and Grace Zhang. Regardless of how long these volunteers have been with Youth Central, these are volunteers that have left a lasting impression on their TLs, on their peers and the community at large. Click their names below to read their full profile. 
---
Prabhu Dhatt
Prabhu is hardworking, takes the initiative on projects, and often takes on work that other volunteers shy away from without being asked.
"He is extremely industrious and focused in his role as a volunteer. He is interested in his fellow volunteers, and very accommodating and respectful of them as well as agency personnel and Team Leaders. He takes the time to help and teach less experienced volunteers and to troubleshoot problems that arise. He clearly enjoys volunteering – it shows!" – Parneet 
"Prabhu is an amazing volunteer. He is super easy to work with and is one of the volunteers who I don't have to check in with often. He is super nice to other volunteers and always puts an effort in talking to other volunteers and making them feel comfortable. He is always taking initiative and offering to help wherever he is. His willingness to be flexible is admirable and having him on the team is always a good thing to look forward to. I am super impressed with the work he has done and I hope he continues to do awesome work with Youth Central!" – Sree
"Prabhu is a positive, outgoing, and hardworking volunteer. He takes the time to get to know the people around him during a project and helps create a comfortable and friendly environment for the other volunteers. He works hard and is always happy to help out. I have not had many opportunities to work with Prabhu, but I hope to work with him more in the future. Congratulations!" – Madison
Dana Desamparado
She makes the most out of every volunteer opportunity and works hard to have a positive impact wherever she goes.
"Dana is an upbeat and outgoing volunteer. She is constantly looking for little ways to help more during a project. I appreciate all your hard work at Zoolights, your openness and enthusiasm in doing the cold tasks, and your effort to get to know your fellow volunteers! Great job Dana I hope to work with you again soon!" – Madison

"Dana has consistently demonstrated to me that she is a hardworking and outgoing volunteer. She isn't afraid to get her hands dirty and she is always a great help at the dish-washing station at Salvation Army. I really appreciate that she takes the time to get to know her fellow volunteers and she brings a positive presence to the group. She is great to have at any project!" – Richard 
Jade Becker 
Jade has only been with Youth Central for a short amount of time, but her bright personality immediately makes her stand out among the volunteers.
"I felt like she did a great job at my Skate with Kids project where she worked one-on-one with a young kid and taught them how to skate. She was patient and gave positive encouragement. I look forward to seeing how Jade continues to grow through her time volunteering." – Richard 
"I have only ever had Jade for the Spruce Lodge Manicures project, but she thrives at the project. She takes initiative in helping set up the project and helping fellow new volunteers. Her ease in developing genuine relationships with the seniors is something to be admired. She frequently volunteers at this project and has made amazing connections with the residents. She also takes the time to get to know her fellow volunteers and help them through the project. Thank you for your dedication to this project and Youth Central. Your work has not gone unnoticed. Congratulations and hope to work with you again soon. " – Madison

"I've only had Jade for one project, but from her enthusiasm and her positive attitude, she stands out as an amazing volunteer. She is quick to understand her tasks and works diligently. She is super outgoing and has no problem communicating with other volunteers as well as the public. I hope Jade continues to prove herself as an amazing volunteer for future projects." – Sree 
Michael Xu
Not only is he an incredibly positive individual with a willingness to adapt to any situation thrown at him, but he has become known for taking initiative.
"I have only had Michael once for a Heritage Park: Once Upon a Christmas shift, but during the shift, I was more than impressed by his attitude. Michael identifies things that can be improved in the crafts station at Heritage Park and simply fixes them. I have received overwhelmingly positive feedback from multiple agency employees regarding Michael and am always asked if he will be coming, as he seems to have made a name for himself among the Heritage Park team. I am looking forward to getting to work with Michael more, as his fantastic leadership and problem-solving skills are always a fantastic addition to a volunteer group." – Cristina 
"Michael is a wonderful volunteer to be with. He is enthusiastic in every task that's asked of him and is comfortable communicating with his peers and the leader. I am always excited to see Michael on my list because I know that he is one volunteer I can rely on for any thing that I need. Michael has proven countless times how awesome he is and I hope he continues his work with Youth Central and stays awesome!" – Sree
"I've only had Michael for one project, but he stood out as being a volunteer who takes initiative. At our WP Puppet Theatre project, the agency asked if any of the volunteers wanted to help them with creating a promotional video. Michael jumped at this opportunity and edited together an awesome video from the footage and photos that he took during the event. I look forward to having him again at a future project!" – Richard 
"I've had the opportunity to work with Michael several times at Heritage Park's Once Upon A Christmas project, and he is a wonderful volunteer to work with. The agency staff and volunteers were always delighted to have Michael at the Crafts station, with the supervisor stating enthusiastically "We're keeping him!" I look forward to seeing Michael at my future projects, as I know he will continue to be an amazing volunteer!" – Janet 
Grace Zhang 
Her attitude affected the other volunteers, which I saw clearly over the course of the shift, as my other volunteers slowly became increasingly positive about their situation as they spent more time with her.
"I've gotten the opportunity to work with Grace a number of times during the month of December and have been hoping to have her on more projects ever since. Grace has an incredibly positive attitude regardless of her assignment. I've had Grace on both projects where she was assigned to her station of choice and where she was assigned to one that nobody wanted to work at. During the latter project, Grace maintained the most positive demeanor of my whole team regardless of the fact that she really had no desire to be outside in the cold.  She is a natural leader and I have never been any less than impressed by her. Grace is a fabulous volunteer and I am looking forward to more projects with her." – Cristina 
"I have worked with Grace for quite a number of projects including Bag Stuffing where I got to know her the most. She was diligent and comfortable being in a large group and a hardworking volunteer. Grace has been a reliable volunteer since I've had her. Her willingness to be flexible and work multiple tasks is admirable. Grace has shown time and time again of her dedication to volunteering. She is committed to her tasks and works well both independently and within a team environment. She is quick to understand her tasks and roles and able to communicate with her peers, leader and the public easily. She has been an amazing volunteer and I hope that she continues to spread her positivity and cheerful attitude with Youth Central for a long time!" – Sree