11 Feb

Mayor's Youth Council Art Contest Winners Showcased

Way back in 2020 – 2021, the Mayor's Youth Council hosted two art contests, with the themes of "Voices of Today" and "Hope in a Changing World". We received many wonderful art submissions from across Calgary. With the help of former Mayor Nenshi and Calgary Recreation, we were able to find space to hang the winning submissions. We are proud to showcase the winning art pieces at Southland Leisure Centre!  Congratulations Kate, Abigail and Sarah! 

Thank you to Calgary Recreation, especially Southland Leisure Centre and the Mayor's Office for your assistance in making this happen.
Kate Kempthorne's It's Time for Change





Hope is not enough. For hope to have impact it requires action. If we want a better world we must go out and change it. This painting demonstrates hope and youth taking action. The book tells the story of what happened to the world and why it came to an end. But the children believe that there can be a different ending, and see the potential that could be. They rewrite paragraphs, and paint over dreary photos. Despite being told that there is no hope they are adamant this isn't how their world will end. This is what we need to do. We have got to take actions to advocate for our own world, and stop waiting around for something to happen. The world is full of problems, and it's up to us to fix it. This is shown by the children who are rewriting their story, controlling their own narrative. Hope is a belief that dreams are obtainable, but in order for those dreams to come true a community must be united. It's time for us to take action, it's time for change.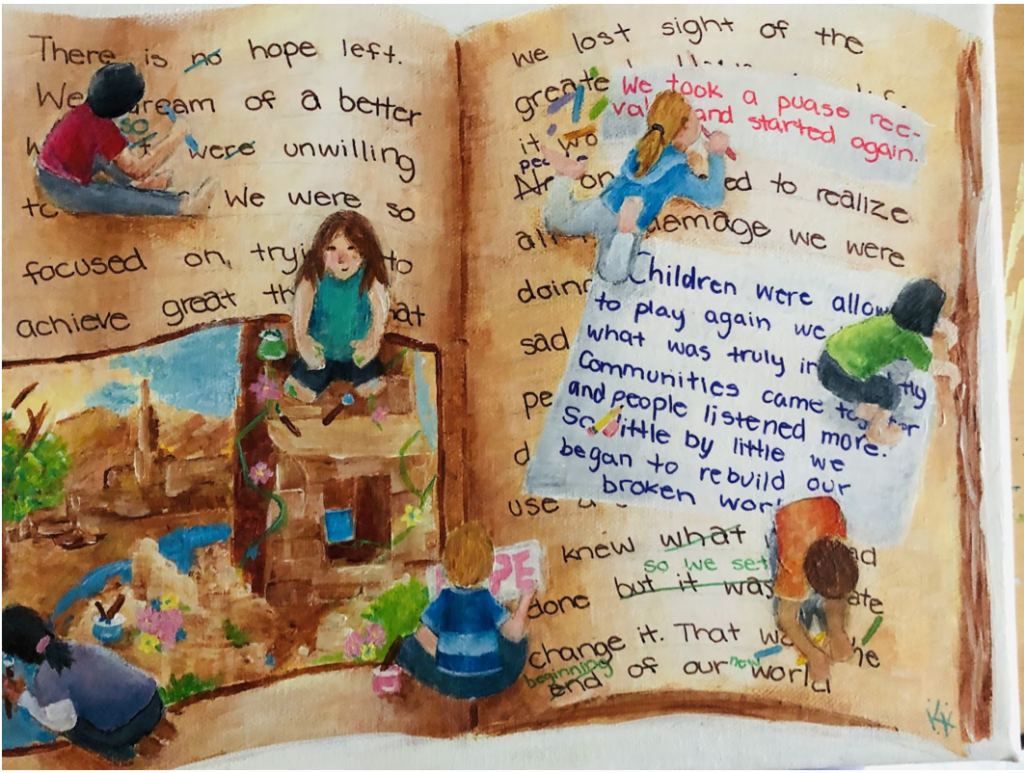 Abigail Osness' We Are Calgary

For this piece, I tried to represent the numerous faces we see everyday in the city of Calgary. I wanted to illustrate togetherness and how unique individuals are from each other. I chose to have the characters that are found throughout this work hold signs that spell out: "We Are Calgary" to demonstrate how we as people with our various and unique traits make up Calgary. I chose a limited colour palette to emphasize the bold, red signs the individuals are holding. This piece connects to the theme, "Hope In a Changing World" because it shows how we are in this together, because we are Calgary.
Sarah Ha's Hope In a Changing World


My painting encompasses many themes that surround the idea of hope for the future in today's youth. The image encompasses the the ideas of diversity, community support, global world views, and environmental consciousness amongst young people who are optimistic about changing the future of Canadians and global citizens alike for the better.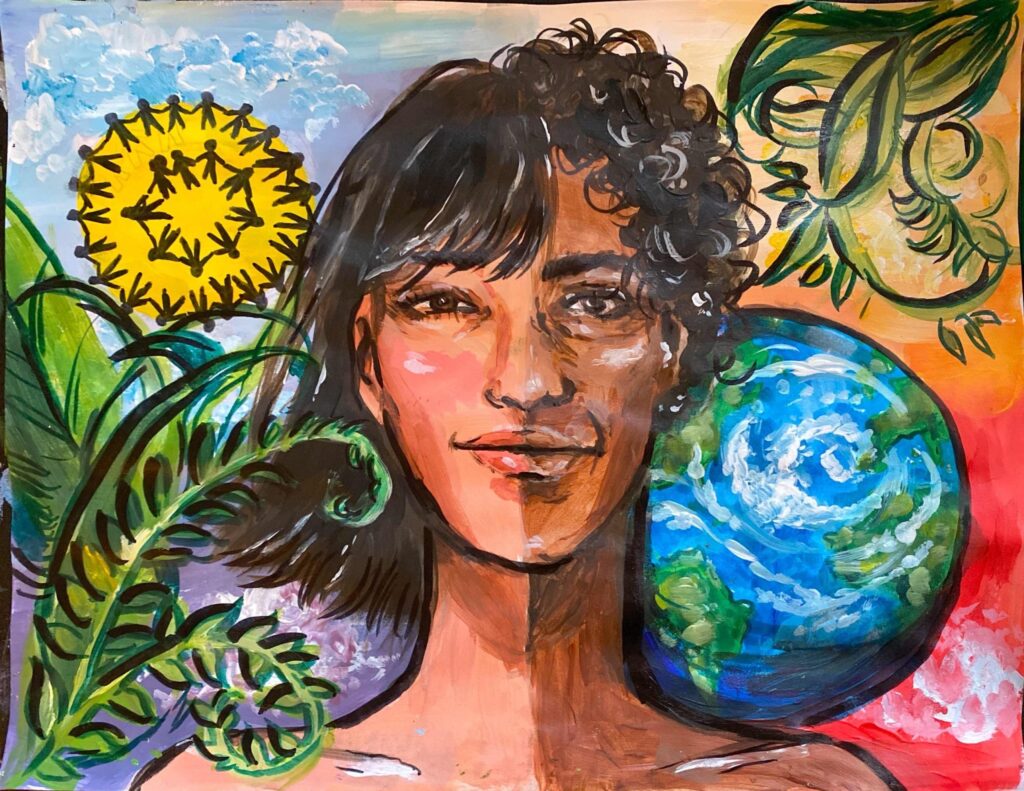 Kate Kempthorne's The Big Picture




Puzzles are a bunch of pieces that individually make no sense, but when put together creates a picture. It's easy to lose yourself and get caught up in one small part. But when all you see is that one part of the puzzle, things don't make sense. We live complex, confusing lives and forget that it could be simpler. If you just step back and get some perspective, things just might start to make a little more sense. The big picture can be whatever you decide.