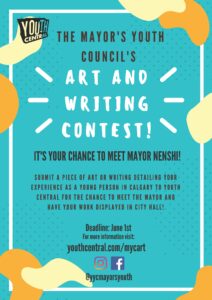 The Calgary Mayor's Youth Council's first annual Youth Art and Writing Contest is now open!

We're looking for original and authentic representations of youth's experience in Calgary. We encourage applicants to think outside of the box and give their own unique impression of their lives. We're looking for a variety of perspectives on what the real youth experience is like.

What can you submit?
Any flat piece of art that can fit on an 8.5×11 page. Drawing, painting, poetry, writing, photography, mixed media to name a few. Get creative!

How can you submit your work?
1. Mail it to Youth Central (105 – 12 Ave SE, Suite 820, Calgary, AB T2G 1A1)
2. Personally drop it off at Youth Central during business hours, Monday – Friday, 8:30 – 4:30 pm
3. Scan your work and email it (mycart@youthcentral.com)
4. High-quality photo of work and email it (make sure to keep the original)

Winning pieces will be displayed in the Calgary City Hall atrium and the winning artists will receive certificates of award.

Good luck!

Artwork Submission Requirements
Submit a short rationale (maximum 250 words) explaining the meaning behind the art piece

Three submissions, each in different medians, are permitted per participant

Explicit consent must be granted for photographs featuring other people

Artwork must be submitted by Friday, June 1st at 11:59PM

Participants must be:
Youth Central reserves the right to display, reproduce, and utilize the creative content of each submission.
Youth Central will always credit the artist or writer of the submission.
The original artist or author is not limited from publishing or sharing their work in the future.