23 Jan

Youth Central's First Alumnus Profile
Rob Gray is our first alumnus to be featured and celebrated for Youth Central's 25th anniversary. Youth Central originally called Child and Youth Friendly Calgary was started in 1992 by Penny Hume and has since grown its mission to inspire, engage and celebrate youth through community participation.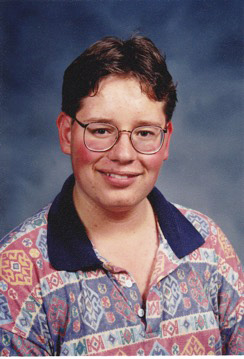 Rob became involved with Youth Central in 1994. His introduction to the organization came from being involved with the Mayor's Youth Council.
"At the time, they had a system where schools could select a student to represent their school," Rob explains. "I threw my hat in the ring and was selected."
From his first experience with Youth Central, Rob found many opportunities for personal growth. "It was my first real taste of independence. It was one of the first things that I did without parental supervision."
While volunteering with Youth Central, Rob was involved with the Mayor's Youth Council (MYC) and the Calgary Youth Foundation (CYF). Through these experiences, Rob found what his passions are, which would eventually lead to his career in communications and public relations.
"My work with them at the time was my first foray into media," Rob says. "I did my first on-camera interview as part of the mayor's council, it was the first public speaking that I had done, and the first events that I had planned."
After graduating from Bishop Carroll High school with honours, Rob went to SAIT Polytechnic and took the journalism diploma program. In his second year, he confirmed his passion for public relations and majored in communications.
During that time, Rob did a work term at the Children's Hospital Foundation where he helped in the campaign for the new Children's Hospital. After graduating, Rob was hired by the Children's Hospital Foundation and has since worked for a variety of non-profit and energy organizations in Communications leadership roles.
Rob's experience volunteering with Youth Central has left a lasting impact. "I don't think there's ever been a time since then that I haven't been volunteering for something."
His volunteer experiences range from Youth Central to volunteering at events with the Canadian Mental Health Association to media relations for the first Weekend to End Breast Cancer in Calgary.
Rob has continued to stay involved with Youth Central throughout the years. In 2005, he joined the Board of Directors. "At the time, I was a general director then I joined the communications committee, and eventually became Board Chair."
"I learned a lot about organizational governance and fiscal responsibility – to the point that I have since been asked to present to various other non-profit Boards on the topic of governance.
"I'd say the most important thing that I took away from my time on the Board was some great relationships. I had the chance to work with some amazing people (board members and staff) and learn from them."
After serving ten years on the board in various roles, he stepped down. However, Rob still remains as a donor and friend to Youth Central.
"I've been pretty lucky in my life and I've had some great opportunities and it's important to give back," Rob explains. "I guess the slightly selfish part of it is I've always found, right from the first Youth Central experience, any volunteering I do, I get back as much as I give.
"I'm always learning new things and building new skills, meeting great new people, and having fun.
"There's a lot of great programs at Youth Central now. I'd encourage people to get involved and take advantage of everything Youth Central has to offer.
"In doing so, [they] will build great skills that will set them up for success in their whole life."
Keep an eye out for other ways Youth Central plans to celebrate its 25th Anniversary later this year!